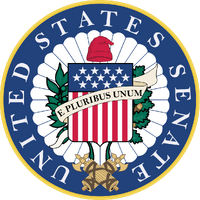 The Senate Judiciary Committee, formally called the United States Senate Committee on the Judiciary, is a standing committee in the United States Senate. Its responsibilities include holding hearings prior to the confirmation of federal judges, including Supreme Court justices. The committee also oversees matters related to federal criminal law, human rights, internet privacy, and other matters of federal law.
The current Chairman of the Judiciary Committee is Senator Patrick Leahy, a Democrat of Vermont. Due to their majority in the Senate, Democrats make up a majority of seats on the committee; ten seats are held by Democrats, and eight are held by Republicans.
Protect IP Act
Edit
The PROTECT IP Act was introduced into the Senate by Chairman Leahy on May 12, 2011. The bill was referred to the Judiciary Committee and was passed out of committee on May 26, 2011. The bill currently has a hold placed on it by Senator Ron Wyden, preventing it from moving forward in the legislative process.
Members of the Committee
Edit
External links
Edit
Community content is available under
CC-BY-SA
unless otherwise noted.