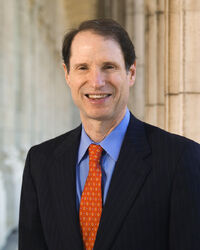 Ron Wyden (born May 3, 1949) is a member of the United States Senate, where he has represented Oregon since 1996. He was previously a member of the United States House of Representatives, where he represented Oregon's 3rd district from 1981 to 1996. He co-authored the Online Protection and Enforecement of Digital Trade (OPEN) Act, that seeks to "fight the unauthorized sale of digital goods and protects Internet security, commerce and speech."[1]
Wyden is a member of the Democratic Party and serves on the Senate Committee on the Budget, the Senate Committee on Finance, and the Senate Committee on Energy and Natural Resources. He is also a member of the Senate Select Committee on Intelligence.
An opponent of the Protect IP Act in the Senate, Wyden placed a hold on the bill in May 2011, preventing it from moving further in the legislative process. He cited concerns about the bill's impact on freedom of speech, innovation, and the internet.[2] He has additionally posted a video on Youtube that he might filibuster SOPA.
In the past, Ron Wyden has been against internet censorship, dating back to 1997 against CDT Act (Unconstituional Communications Decency Act).[3]
References
Edit
Links for Ron Wyden
Edit
Community content is available under
CC-BY-SA
unless otherwise noted.