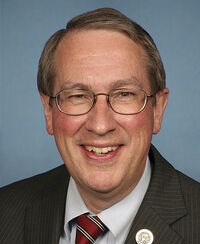 Robert "Bob" Goodlatte (born September 22, 1952) is a member of the United States House of Representatives, where he has represented Virgina's 6th congressional district since 1993.
Goodlatte is a member of the Republican Party and currently serves on the House Judiciary Committee and the Committee on Agriculture.
Stance on SOPA
Edit
Representative Goodlatte is a supporter of the Stop Online Piracy Act, and he is a co-sponsor of the legislation. Goodlatte has stated that one of the primary reasons for his support of SOPA is an effort to combat piracy that results in the loss of American jobs.[1]
Critics of the legislation contend that the bill aims to overturn the notice and take down provision of the Digital Millennium Copyright Act. Goodlatte has said that "it is unrealistic to think we're going to continue to rely on the DMCA notice-and-takedown provision."[2]
References
Edit
Links for Robert Goodlatte
Edit
Community content is available under
CC-BY-SA
unless otherwise noted.