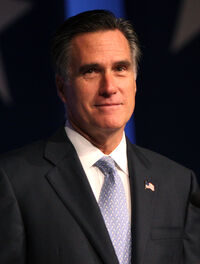 Mitt Romney is an American businessman and politician who was the 2012 Republican Party nominee for President of the United States. He ran against and lost to the current President, Barack Obama. Romney previously served one term as the Governor of Massachusetts and had a long career in the private sector, primarily as Chief Executive Officer of Bain Capital. He was also President and CEO of the Salt Like Organizing Committee overseeing the 2002 Winter Olympics. Governor Romney previously ran for the Republic nomination in 2008, but lost to Senator John McCain.
During a Republican primary debate in January 2012, Romney indicated he was opposed to SOPA in its then-current form. He stated that the law was "far too intrusive, far too expansive, far too threatening to freedom of speech and movement of information across the Internet." He also indicated that he believed it could have a "depressing impact on one of the fastest growing industries of America, which is the Internet and all those industries connected to it."[1]
References
Edit
External links
Edit
Community content is available under
CC-BY-SA
unless otherwise noted.