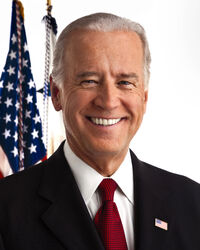 Joe Biden (born November 20, 1942) is the 47th and current Vice-President of the United States, serving in the administration of President Barack Obama. Along with President Obama, Vice-President Biden was re-elected to a second term in 2012. He is the former Senator of Delaware, where he served from 1973 until his resignation following his election to the Vice-Presidency.
As the Vice-President, Biden is also the President of the United States Senate, though it is a rarely-used office. One of the duties of the President of the Senate is to break tied votes. Should the PROTECT IP Act or some variation of it be voted upon on the Senate floor in 2012 and the vote is tied, Vice-President Biden will be responsible for casting the deciding vote.
Links for Joe Biden
Edit
Community content is available under
CC-BY-SA
unless otherwise noted.